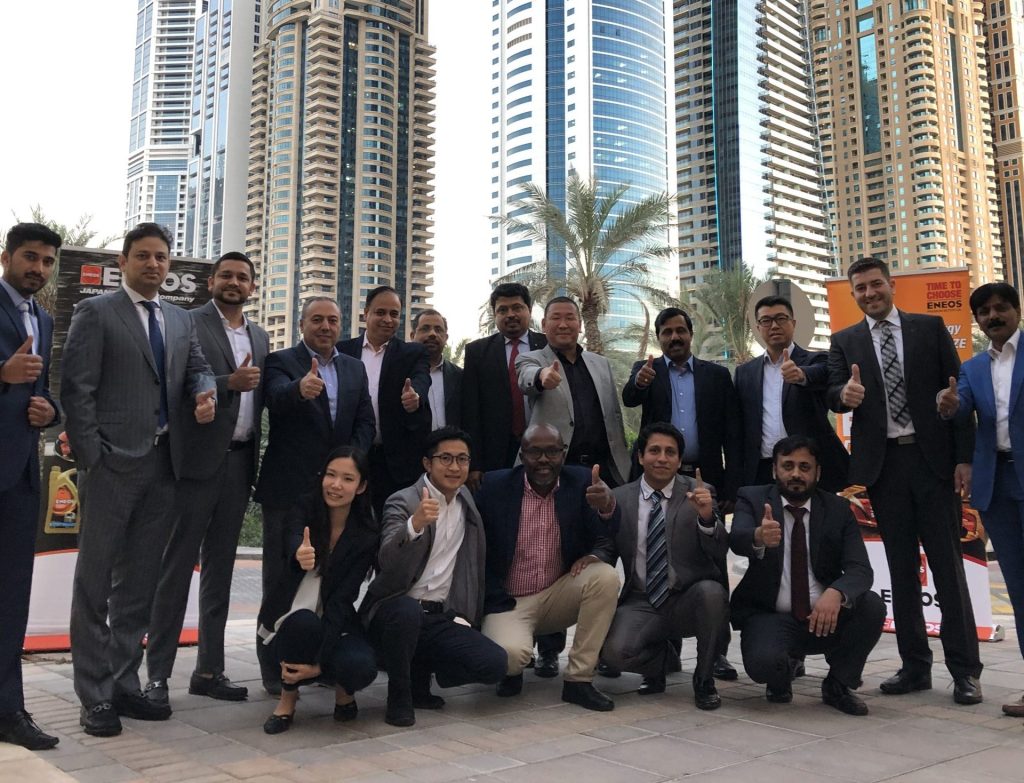 ENEOS Middle East & Africa FZE  held 4th ENEOS Distributor's Seminar at Westin Dubai Mina Seyahi Beach Resort & Marina, UAE on February 14th 2019.
Mr. Yasuhiro Kawasaki, General Manager of Lubricants Sales Department was the chief guest from JXTG headquarter, accompanied by Takayuki Utsumi, Managing Director and Iso Hironori, General Manager of ENMA received the ENEOS distributors from all over GCC and Kenya.
Also Mr. S. Mathan Kumar (DY General Manager), Mr. Mohammed Furqan (Sales Manager) and Mami Ichikawa (Assistant Sales Manager) joined seminar.
This annual distributor's seminar was attended by ENEOS distributors of GCC & Kenya.
Mr. Shajo Varghese (Brand Manager) from Mohsin Haider Darwish LLC (Oman)
Mr. Ahmed Hasanatto (DY General Manger) and Mr. Sabyasachi Satpathy (National Product Manager) from General Automotive Services Co. LLC (Bahrain)
Mr. Muhammad Farrukh (Operations Manager) and Mr. Syed Ruhul Huq (Director) from Assurance General Trading LLC (UAE)
Mr. JAYACHANDRAN.V.P. (Division Head) from United Co-operation General Trading WLL (Qatar)
Mr. Nabil Al Zaim (General Manager) from Al Zaim Trade & Industry (Lebanon)
Mr. Biju Ramachandran Nair (Divisional Manager) and S.J. Sajeev (Senior Finance Manager) from Federal General Trading & Cont. Co. WLL (Kuwait)
Mr. Edward Kitavi (Managing Director) from NIPPON Energy & Services Kenya Limited (Kenya)
The joint distributor's seminar provided a good platform to all distributors to share their "ENEOS" experiences and discuss current activities in their respective markets. The distributors also shared their views for 2019 ENEOS business growth.
It was a great opportunity for all team members to exchange theirs views, ideas with each other, which will be helpful in business growth and take joint steps towards ENEOS brand awareness.
ENEOS Awards were given to Federal General Trading & Cont. Co. WLL (Kuwait) and General Automotive Services Co. LLC (Bahrain) for achieving 2018 sales Target.
All the distributors and ENMA team had a great time together at the dinner party.