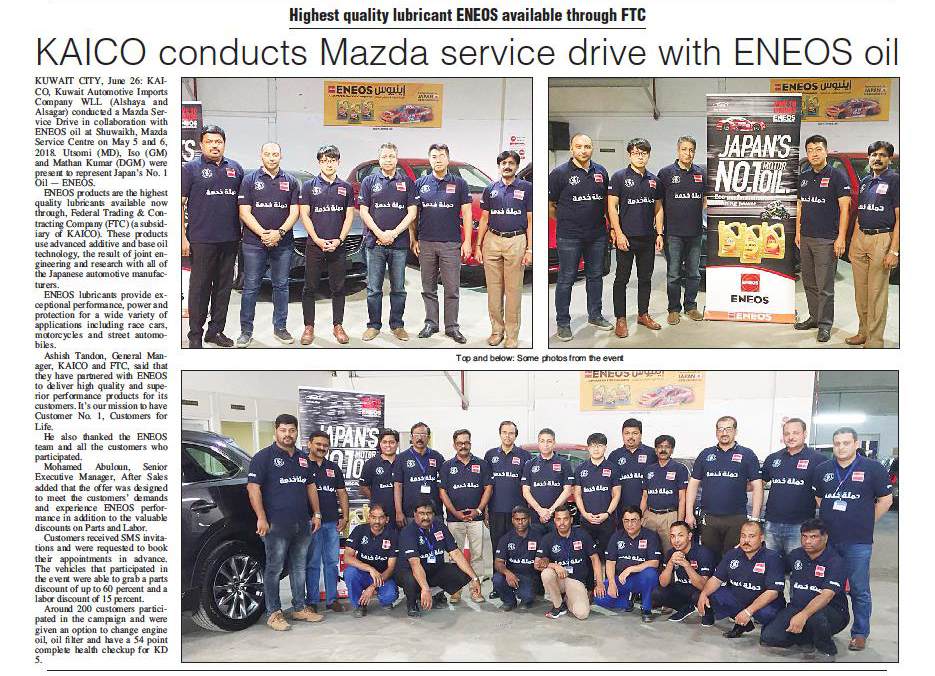 A Historical movement for ENEOS brand promotion in Middle East.
ENEOS has partnered with Federal Trading and Contracting Co. W.L.L (FTC-Kuwait) owned by AL-SHAYA & AL-SAGAR Group since 2016 onwards to distribute ENEOS brand in Kuwait market. Since inception, the team has taken the brand to the entire geography of Kuwait to many major B2B and B2C customers through shear hard work and innovative marketing and sales strategies. Way forward, ENEOS has tied-up through the group with Kuwait Automotive Imports Co. W.L.L, Service Centre having a dealership of MAZDA, PEUGEOT, GEELY, EICHER and IVECO as a lubricant service provider. ENEOS has inspired the business partner through best quality and service.
As a next step to reach out to the consumer, ENEOS has joined hands with KAICO and took part in the mega event "MAZDA SERVICE DRIVE" organized on the 5th and 6th May 2018. On those 2 days, around 200 customers were benefited with attractive special discount for their vehicle service. They also actively interacted with ENEOS senior officials to understand about the lubricant basics / spec's and ENEOS performance and benefits through a visual manual. Everyone felt the interactive session was very useful to understand about lubricants and expressed their happiness using ENEOS brand in their vehicles.
The grand event was covered by 6 national newspapers and by an Asia regional media channel.
ENEOS looks forward for more excitements to come.