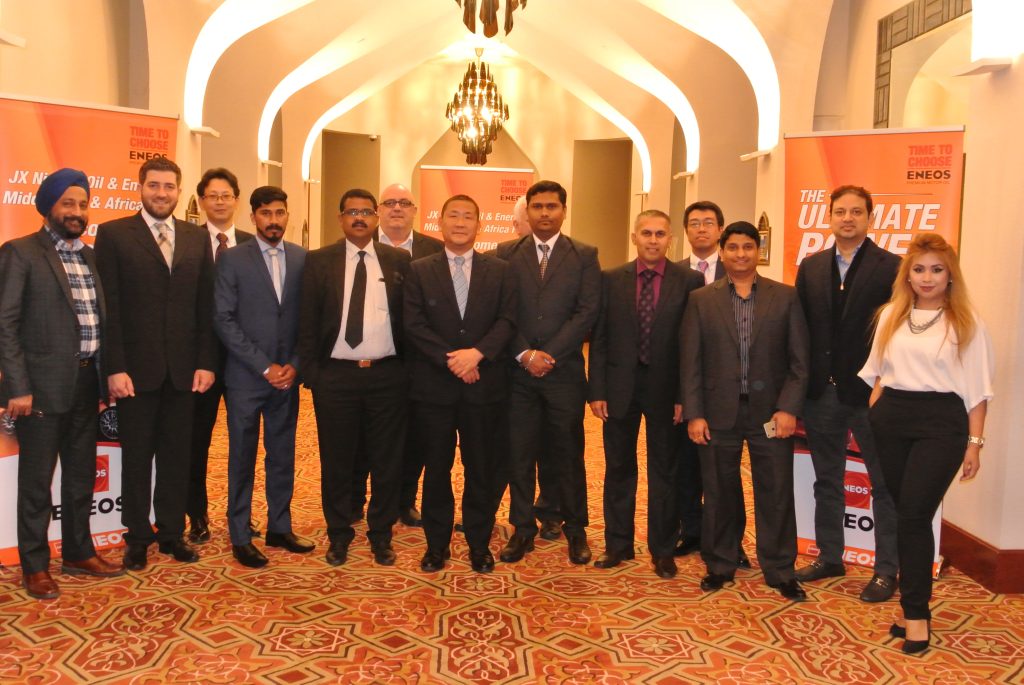 ENEOS Middle East & Africa FZE (ENMA) held 2nd ENEOS Distributor's Seminar at Shangri-La Barr Al Jissah Resort & Spa, Muscat, Sultanate of Oman, on January 26th 2017.
Mr. Yasuhiro Kawasaki, General Manager of Lubricants Sales Department was the chief guest from ENEOS headquarter, accompanied by Takayuki Utsumi, Managing Director and Teruhiko Suzuki, General Manager of ENMA received the ENEOS distributors from all over GCC.
The seminar was attended by ENEOS distributors of GCC. Mr. Deepak Pothula (GM) from Mohsin Haider Darwish LLC (Oman), Mr. Syed Waseem (Sales) from United Co-operation General Trading (Qatar), Mr. Sameer (Country Manager) from General Automotive Services Co. LLC (Bahrain), Mr. Syed Ruhul (Managing Partner) and Ms. Maggie Bungcasan from Assurance General Trading LLC (UAE), Mr. Paul Carrington (GM) and Mr. Brian Wright (BM) from General automotive (KSA), Mr. Nabil Al Zaim (GM) from Al Zaim Trade & Industry (Lebanon).
It was a good flat form for all the ENEOS distributors to gather and exchange their current activities of their respective market to enhance ENEOS business in this region.
Mohsin Haider Darwish LLC (Oman) was awarded for achieving Sell-In and Sell-Out volume target achievement. Unite Co-Operation General Trading (Qatar) received an award for highest Sell-In and Sell-Out volume in GCC for the year of 2016.
The event was very successful and motivating all the distributors to plan and work to meet 2017's Sales Target.